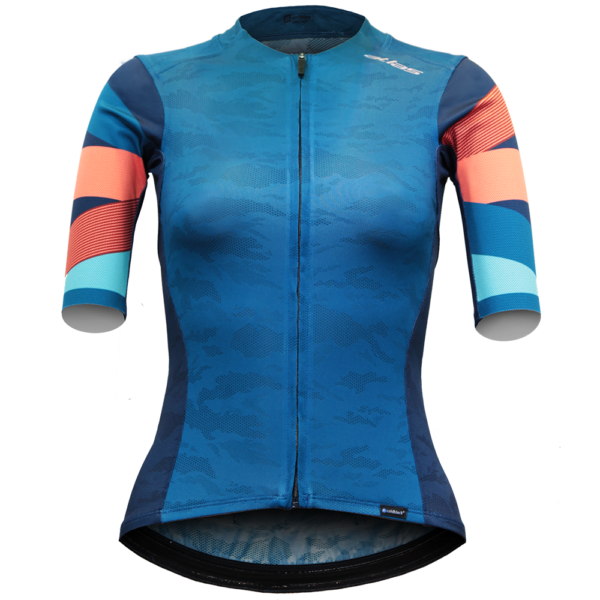 Technology Series-Women's ColdBlack Jacquard Jersey
RM254.00
Features
Cold Black Technology / Coldblack by Schoeller®
Antibacterial and deodorant / Actifresh (Hygiene function) by Sanitized®
Jacquard
Cool Sense / Cool feeling fiber
Quick dry
Description
Additional information
Reviews (0)
Description
Atlas
Technology Series – ColdBlack Jacquard Jersey
Fabric upgrade innovation standard
Adopting "Jacquard" fabrics and introducing "Cool Black Technology", "Cool Black 3.1" is grandly launched, making cycling activities sublime into cycling art.
Jacquard Fabric
It can change patterns that cannot be woven by traditional looms, and its air permeability will be better than Coldblack 2.0 embossed fabric.
Cold black technology
In general, black clothing will be hotter than light-colored clothing. The main reason is that dark clothes are more endothermic than white clothes. Therefore, we will wear darker clothes in autumn and winter. In addition to beauty, there is also a role of warmth. On the contrary, most of the clothes worn in the summer will be light-colored. The main purpose of these two large blocks is to make the user feel comfortable.
The appearance of cold black is to solve the dyeing and finishing agent developed by the dark clothes that absorb heat and cause the human skin to feel too hot. Simply put, he is reflecting the radiant heat of the sun. Therefore, the treated fabric will feel cooler when worn on the body.
Antibacterial and deodorant
When a lot of sweat is sweating, the protein will follow the sweat and adhere to the clothes. When it encounters the air, it becomes a hotbed of bacteria, which produces a spoiled taste. Actifresh technology developed by Sanitized, Switzerland can prevent dust mites, molds and bacteria. The microorganisms are attached to the clothes to prevent the clothes from producing odors. In addition, in addition to antibacterial and deodorant, Actifresh-treated fabrics are more durable than untreated fabrics because they prevent bacteria from adhering to the fibers of the fabric, which is the second advantage of the technology.
Material: Cold black multi-cycle (Polyester 100%)
Underarm: Breathable mesh (Cooltouch 74%, Polyester 18%, elastic OP 8%)
Precautions
Neutral detergent washed by hand
Do not bleach
Don't put under direct sunlight
The maximum water temperature does not exceed 30 degrees Celsius
Do not use soft and cold washing detergent
Do not soak
Do not overexpose
---
Only logged in customers who have purchased this product may leave a review.